MP Michael Gove hears of challenges for horticulture on visit to North Hill Nurseries
by Kristin Tadlock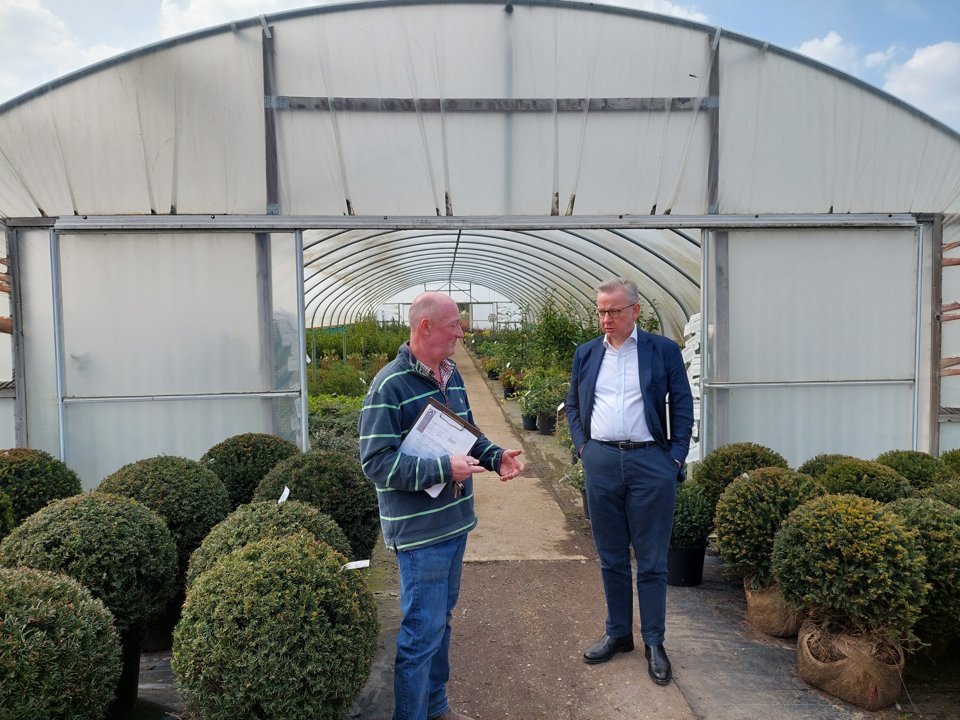 HTA members, North Hill Nurseries in Chobham hosted their local MP and Secretary of State for Levelling Up and Housing and Communities, Michael Gove, this week for a visit that brought to life a range of current issues being faced by horticultural businesses across the country. 
Arranged by North Hill's Managing Director, Simon Edwards, with help from the HTA, the visit enabled Simon to highlight the additional trade challenges that the business has experienced since the UK left the European Union. He echoed the concerns of many in the horticulture sector over plant imports going into Border Check Points and the delays to the transit of highly perishable goods that this will inevitably cause.  
The ongoing skills and labour shortages in the industry were also a topic of discussion. The HTA have been working to engage government on this issue to find reasonable solutions for members such as expanding the Seasonal Workers Scheme.  
Minister Michael Gove commented: 
'I was very grateful to Simon Edwards, Manager of North Hill Nurseries in Chobham, for giving me a tour of his business. Simon is a true expert on the horticulture industry, and it was really helpful to hear his thoughts on what more the Government can do to support the sector.' 
HTA Public Affairs & Policy Manager, David Lydiat, was in attendance and spoke with the Minister about the issues facing businesses across the sector. He said:  
"We were pleased to welcome Mr Gove; the gardening and horticulture industry underpins 50 per cent of the 25-year Environmental plan, which the Minister himself led and published. We spoke about the significant economic and health contributions being made by the horticulture industry and the Minister acknowledged the importance of horticulture in relation to the environment - key elements to consider in the levelling up agenda. 
"Importantly we also raised our concerns over the current and upcoming regulation burden that our members are facing – this is leading to a cost of doing business crisis. It is essential that the government act to mitigate state interference that negatively impacts our industry."